These tips for a professional LinkedIN photo will help you get the most out of the photoshoot
Before taking a professional profile picture you first need to know what is it you want to emanate to the outside world. If you work in a lawyer company you will probably want to convey a different message than someone working in the health sector. Discuss this with your photographer beforehand, so that together you will reach the best results.
Despite your face being the central piece of a profile picture, your entire body posture plays a crucial role on the final product. Small things like a straight back and shoulders, or projecting your chest a little forward, will make you emanate self confidence. It is scientifically proven that assuming a power posture will increase your levels of testosterone and decrease the cortisol (aka the stress hormone). These are actually amazing news for anybody who becomes a little anxious before a photoshoot! A professional portrait photographer can obviously coach you during the session, so that you will always assume the correct posture. Our photographer, Wijnand Geuze, explains all you need to know during his TedX Talk in order to reach the perfect radiance.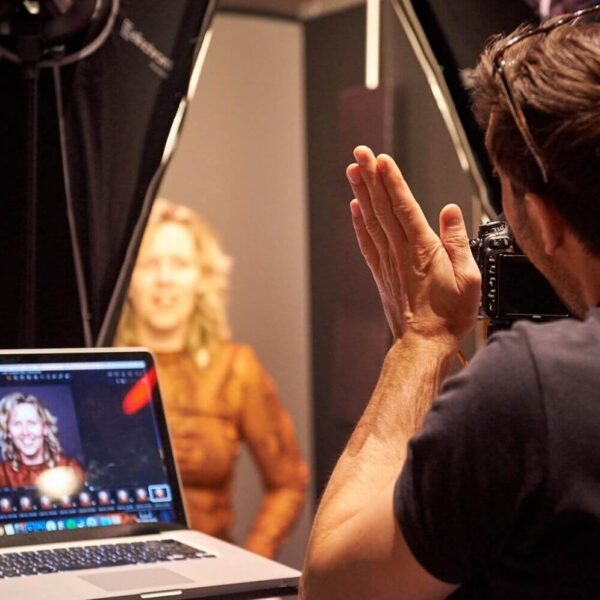 Tip 3: Picture composition
A profile picture is mostly used for social media platforms, such as LinkedIn. Next to that, nowadays is becoming more common to also use it on a CV. No matter what, this is always a small picture! Therefore it is very important and unavoidable to zoom in your face as much as possible. This can be confronting sometimes, but rest assured a good photographer will always be able to take a good picture from anybody. Also from closeby!
Taking a selfie can be fun, but if you want to come across as a reliable professional on your LinkedIn profile, you really better off if you hire a professional photographer. Not all photographers are specialised on LinkedIn pictures, therefore take a look at the photographer's portfolio and decide if those photos match your goal.
Make sure that you have affinity with the photographer you choose. If you feel the need to be reassured beforehand, give him a call and check if you understand each other. Thereafter you can make an appointment, but only if you have a good feeling!
Tip 5: Smile (with your eyes)
On a profile picture it is very important that you come across as friendly and approachable. You communicate that with your smile. This does not mean you need to grin from ear to ear. A simple small smile is often more than enough to allow the friendliness we are looking for to shine through your eyes. However, it is not always easy to smile on demand, it is therefore important to find a photographer that makes you feel at ease and naturally makes you laugh, so your smile does not look forced.
A profile picture is about the person, not about the outfit. Thus make sure your clothes are not distracting, the focus should be on your face. This means no busy prints nor screaming colours. Use discrete accessories and, for the ladies, be modest with your cleavage.
Not all outfits work well on a picture, here is a list of the don'ts:
Better to stay away from white, it takes the attention away from your face and makes some people look too pale.
Black clothes can also make you look pale, and they show every particle of dust.
No busy prints nor stripes
No turtle necks, they make your neck look very short.
No big ear rings nor necklaces, these can be very distracting.
Avoid low cleavage or big neckline. Depending on the angle of the picture, these can make you look too naked. Is certainly be very beautiful and attractive in real life, but makes your picture weaker.
Shoulder pads are another no go. On a profile picture they make you look very un-natural.
However, remember…
There are exceptions for everyone and every situation. Once more you first need to think what is your objective.
You cannot decide? Ask professional advice and always bring more outfits with you for a photoshoot.
If you wear glasses daily, then it is logical you wear them for your photoshoot. They are part of your image and will make you recognisable. However keep in mind that some lenses are shiny and provoke reflection so, if possible, it would be advisable to take spare glasses with anti-reflection lenses. You do not have a spare or you want to be wearing a specific pair of glasses on the picture? Then the photographer will find a solution during the session or he will digitally edit the reflection afterwards.
Make sure you style your hair as you usually do on your daily life. This makes you easy to recognise and contributes for you to feel at ease during the shoot. You'd like to wear your hair loose? Then ensure that it does not completely cover your ears. This will give you a more open appearance.
Do you usually use a pony tail or a bun, then it is advisable to feature it on the picture (instead of hiding it on the back your head). Many people feel inclined to go to the hairdresser shortly before doing a photoshoot. If you have very short hair, it is advisable you do that at least one week before the session, because your hair will look different on the picture.
You don't feel very confident applying make-up? Then it is very sensible to hire a professional make-up artist. It is important that you explain that you need the make-up for a profile picture, because depending on the objective, there are many types of make-up too.
A good professional will discuss with you before the shoot how you usually do it on your daily life and will stay faithful to your image and style. She will match it to our outfit, hair and eyes colour as well as your skin tone. If you prefer to do it yourself, we advise you to be discrete and opt for a modest and light style. The camera will accentuate everything, therefore mascara or eyeliner might appear thicker on the photo than they actually are. Avoid glittery make-up. Glitter can reflect the lights and does not look good on a picture.
Did you have a bad night or you you woke up with a pimple on your nose, don't worry, that can be sorted afterwards through digital edition.
Tip 10: Test your picture
"I never look good on pictures"
There are various researches that show that it is very difficult to objectively assess a picture of ourselves. For this reason we are very often inclined to choose a weaker picture (out of modesty) or to be dissatisfied by default. Your friends will also never be objective, because they want to please you and make you feel good. A good portrait photographer can help search for the right picture. Depending on what your objective is, he will look for the right radiance, without ever being distracted by something so subjective as the body appearance.
Are you curious how unknown people actually evaluate your present picture? Or you'd like to know if, by contrast, your new picture is an improvement? Upload your pictures on photofeeler.com and get them tested scientifically.
On this website (and app) a number of complete strangers will assess, for free, your professionalism, friendliness, self-confidence and reliability solely based on your pictures.
Klaar voor de fotosessie?
reserveer jouw fotoshoot